Vertebral Augmentation (Kyphoplasty)
Kyphoplasty is a type of Vertebral Augmentation for Compression Fractures. A kyphoplasty is a surgical procedure designed to treat a compression fracture of the spine and stabilize a vertebral bone, resulting in back to normal spinal stability and stopping the pain caused by the fracture.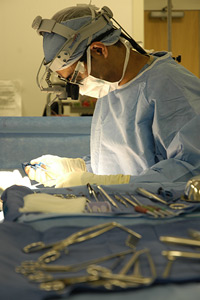 Kyphoplasty surgery is performed under local or general anesthesia and typically takes 45-60 minutes for each fractured vertebra.
The surgery consists of a small incision made in the back and a narrow tube is inserted toward the facture site guided in real time by fluoroscopy. A specialized small balloon is inserted into the vertebrae and very carefully inflated which moves the factured bone pieces back into their normal resting position. The balloon is then removed and a hard cement-like material called polymethylmethacrylate (PMMA) is filled into the cavity, which hardens and gives strength and structure back to that individual vertebrae.
Patients will be observed in the recovery room immediately following the procedure and may spend one day in the hospital. You should arrange for transportation home from the hospital and should not drive until given permission by your physician.
Spine Centers of Excellence