Acupuncture
Traditional acupuncture is based on the ancient Chinese theory that there are energy pathways that run throughout the body. These pathways, called meridians, carry the body's vital energy, or chi (pronounced "chee"). The principle behind acupuncture is that disease and pain are a result of an imbalance in the body's energy flow (chi). Through the insertion of thin needles at specific points along meridians, the flow of energy is controlled and rebalanced in the body.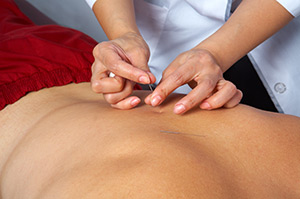 Acupuncture dates back to the first century B.C. in China, during the era of the Han dynasty (206 B.C. - 220 A.D.). Because Western physicians in the United States have difficulty understanding the correlation between acupuncture philosophies and traditional physiology, acupuncture has not been readily accepted in the United States.
Modern scientists have attempted to explain how acupuncture can relieve pain. Some observe that the traditional Chinese "meridians" overlap with pathways of the central nervous system. By using needles, an acupuncturist can stimulate the nervous system to release endorphins (morphine-like chemicals) in the muscles, spinal cord and brain. These chemicals either relieve pain symptoms or trigger other chain reactions that relieve them.
Acupuncture is nonsurgical, does not involve drugs, and has no extremely negative side effects or permanent complications. It may be worth exploring as a nonsurgical option, particularly if you have exhausted the traditional remedies of Western medicine.


Spine Centers of Excellence